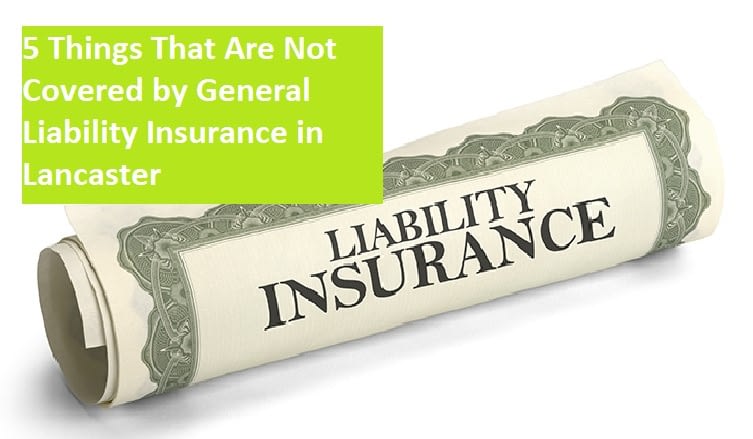 General liability insurance is a crucial safety net for businesses and individuals, offering protection against a wide range of potential risks. However, it's essential to understand that not everything is covered by this insurance policy. In Lancaster, like in any other place, there are specific exclusions and limitations. In this blog, we'll delve into the five things that are not covered by general liability insurance in Lancaster.
1. Professional Services
General liability insurance is designed to protect against bodily injury, property damage, and personal injury claims arising from accidents or negligence. However, it does not cover claims related to professional services. If you're a professional, such as a lawyer, accountant, or doctor, you'll need a separate professional liability insurance policy to safeguard against claims stemming from errors or omissions in your work.
2. Employee Injuries
While general liability insurance provides coverage for injuries sustained by third parties, it typically does not cover injuries to your employees. To protect your employees, you'll need workers compensation insurance, which is mandatory in most states, including Lancaster. Workers' compensation provides medical benefits and wage replacement for employees injured on the job.
3. Intentional Acts
General liability insurance is meant to cover accidents and unintended occurrences. It does not provide coverage for intentional acts, such as assault or vandalism. If you or your business is involved in an intentional act that causes harm, general liability insurance will not come to your rescue.
4. Pollution and Environmental Damage
Pollution and environmental damage claims are usually not covered by general liability insurance. If your business operations result in pollution or environmental harm, you may need to purchase additional pollution liability coverage. This is especially important for businesses in industries like manufacturing or waste disposal, where the risk of environmental damage is higher.
5. Contractual Disputes
General liability insurance typically does not cover contractual disputes or breaches. If you're facing a lawsuit related to a contract, you may need to seek legal advice or consider a separate insurance policy, such as errors and omissions insurance, which can provide coverage for contractual disputes in some cases.
Understanding the limitations of your general liability insurance policy is crucial to ensuring that you have adequate protection for your specific needs. While general liability insurance is a valuable asset, it's not a one-size-fits-all solution. Depending on your circumstances, you may need to supplement your coverage with additional insurance policies to mitigate various risks effectively.
Consult with Agency One Insurance Services, Inc.
Before you finalize your business insurance, understand what it covers and what you need to do if you ever need to make a claim. This way, you won't face unexpected problems later on. If you're unsure about liability insurance, just reach out to our team in Lancaster at Agency One Insurance Services, Inc. We'll make sure you get the insurance that's just right for you.